About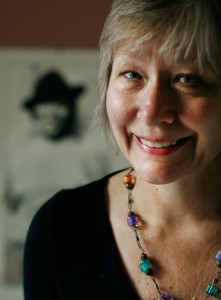 Hi.  I'm Kristy Andersen.  I'm an award-winning Florida documentary producer and my work can be seen on local and national television, as well as in Florida tourist spots.  Here's a bit about me.
I worked in television stations in Tampa and Washington, D.C before my first venture into long-form film and video – the acclaimed Bay Bottom Blues in 1985.  It won an EMMY nomination and helped to spearhead efforts to clean up and restore Tampa Bay.  With that film, I was hooked on documentaries.  The film, with its focus on tiny sea grasses, established my signature style of bringing a creative angle to an under-explored or under-appreciated topic.
After that film I began a newsletter, Bay Bottom News, to help raise money and support for my next film, Tampa Bay Oasis.   While I had previously emphasized the problems in Tampa Bay, I thought it would be good to focus next on the marine life in Tampa Bay.  So I spent an entire year with a terrific film crew, following birders, fishermen, scientists, and environmentalists, all working to document and preserve the bay's manatees, dolphins, sea and shore birds, alligators, clams, sponges, fish, and all the creatures in the bay.  Bay Bottom News then became the name of my corporation.
More environmental documentaries followed.  Shifting Sands explored Florida's eroding shoreline.  But it was Sea Turtles Last Dance that holds a special place in my heart.  That film brought to light the problems facing the endangered kemps' ridley turtles, whose future rested solely in the hands of Congress and commercial shrimp trawlers.  My EMMY award-winning documentary, broadcast nationwide, used rare 1947 archival footage to show the turtles' drastic decline from that time to its contemporary numbers.  The film prodded legislation two years later to protect the turtles, ordering shrimpers to take measures and change their fishing gear.  The turtles numbers have been slowly gaining ground, but they still face obstacles and hurdles.
Churchill Roberts at the University of Florida Documentary Institute flattered me by his proclamation about my next film – it was a "tour de force", he said.  But when I began ZORA NEALE HURSTON: JUMP AT THE SUN 18 years before Churchill saw it, there was always an uphill battle for funding.  Funders would ask, Zora who?  Then as I began to gather support, Zora's star began to shine.  While a film about Zora at one time seemed such a long shot – I was able to slowly bring attention to Florida's famous storyteller and folklorist, the author of the classic novel Their Eyes Were Watching God. And eventually my efforts were joined by those of veteran producer Sam Pollard and film editor Marian Hunter, and the talented Executive Producer Susan Lacy at WNET's American Masters.  And ZORA NEALE HURSTON: JUMP AT THE SUN was finally broadcast nationwide on PBS in 2008, to critical acclaim.
I'm currently working on a few broadcast film projects, and I'm always looking for opportunities in new media.  I love the tiny Flip Camera with its ability to film in almost any environment and then "broadcast" immediately on YouTube, Facebook, and other social media.
I welcome queries for any projects, big or small.  It's always fun to hear from fellow filmmakers and potential clients.  Until then, I'll see you at the movies!