The Southern Circuit Film Tour – Tennessee
On March 14, I began a tour of southern cities, sponsored by South Arts and the National Endowment for the Arts. As part of that tour, I blog about the events. Here is my first blog after my screening at Carson-Newman College in Tennessee. By the way, I'm still looking for that pair of shoes so whoever finds them in Jefferson City, please send them my way.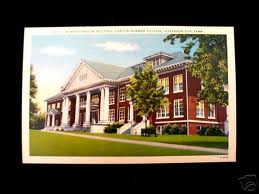 This small college in Jefferson City is surprisingly ranked one of the best Liberal Arts Colleges by US News & World Reports – surprising only because the college, with its quaint campus and brick buildings, is in a town that barely boasts a hotel. Its big city neighbor is Knoxville, less than an hour from woodsy Jefferson City (unless you mistakenly misread Johnson City as Jefferson and head 50 miles out of town before realizing your error – doh!). My host, Mark Borchert, has turned the Henderson Humanities theatre on the campus into a film screening room with an audio system that surpassed many where I've screened in newer more modern venues. They just don't make buildings like they used to. In fact, the screening was flawless. The students ranged from Communications to Theatre to English majors, the faculty reflected the same, and it appeared there were some civilians in the audience. I had a feeling that this was new information to these students, that they had not pondered the Harlem Renaissance to any degree. But I'm sure Dr. Bethany White will make sure that what they learned about Zora Neale Hurston stays with them.