ZORA broadcast on PBS' American Masters Monday/Feb. 22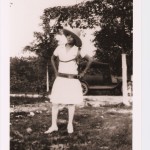 You missed it last time?  There have been two PBS broadcasts of JUMP AT THE SUN, first in 2008 and most recently Feb. 22, 2010.  So if you want to see the critically acclaimed ZORA NEALE HURSTON: JUMP AT THE SUN, your best option now is to buy your own copy here or through Amazon.
That pistol-packing mama, Zora Neale Hurston, had a rich life, challenging Jim Crow laws in the South as she collected folklore and the cultural matrix of Black America through her film camera, her brownie camera, and "sound machines" provided by the Library of Congress.  This photo is courtesy of Howard University Moorland-Spingarn Research Center.
Selected press clips:  The Miami Herald: "Shimmering"; Detroit Free-Press: "A big story, beautifully told"; New York Times: "Does a fine job outlining Hurston's life and near-miraculous achievements"; NY Newsday: "An exhilarating portrait of an exhilarating woman"; Milwaukee Journal-Sentinel: "Irresistible".