Sunscreen Film Festival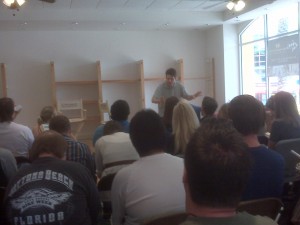 I attended the Sunscreen Film Festival workshop on Indie Film Producing and another on Master Screenwriting yesterday at St. Petersburg's troubled BayWalk, where the storefronts are empty.  The availability of space is a fortunate coincidence for the workshops which are part of the festival.
As a festival, Sunscreen doesn't shine so much from its selection of first-run nationally coveted festival films, though there are a few.  Rather it has excelled at keeping locals in the mix.
But it's the workshops – geared exclusively for fiction narrative – that I found to be first-rate.
Classes are small, maybe 70 attendees, and the teaching moves at a quick clip, full of relevant and important information.  Having attended some similar workshops in major cities, I much preferred this more intimate setting – it was so intimate that Dean Batali, the workshop leader and Head Writer for That 70's Show and Buffy the Vampire Slayer, apologized for slewing spittle on the front row.  I think he was kidding.
But this was not regurgitated information.  Class leaders are current and all knowing.   Indie producers Sean Covel and Doc Wyatt honed their skills on various films but their blockbuster was Napolean Dynamite, a classic example of a low-budget film ($500,000) that took naysayers by surprise.
At $35 for a day pass, you get the classes and the films, a very reasonable rate for the talent at hand.  And although there aren't classes for nonfiction film, good writing and good production advice applies across genres.
Grab some spf15 and head on down to Baywalk – just steer clear of that front row.