NEH Zora Neale Hurston Teachers Conference
The Florida Humanities Council is in its third year sponsoring a conference on teaching Zora Neale Hurston's life and works in the classroom. A week long program, the conference operates out of Rollins College in Winter Park and the teachers travel to Eatonville, Zora's inspiration for her independent head-strong style.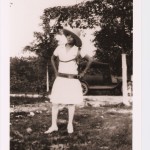 They also go to Maitland Art Center and Ft. Pierce, where Zora was buried. I'll be there screening my film and discussing how teachers can use film terms and techniques to bring writing into their media classes. No more going straight to the camera and the edit suite – writing is an important part of filmmaking!