Zora Neale Hurston's name is almost synonymous with the Harlem Renaissance.  Yet, she spent only a modest amount of her time in Harlem during the decade it flourished as an incubator for black arts in America, from 1920 until the stock market crashed in 1929, launching the Great Depression.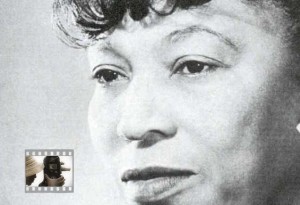 Zora arrived in New York in 1925 and in 1927 she was given a 16-mm camera and a car by her patron Charlotte Osgood Mason, and immediately headed south to Florida.  A majority of the footage from 1927 consists of children playing games.  Researcher Keith Bollum has identified the location as Loughman, Florida, the site of an immense central Florida lumber yard and sawmill, the same place where Zora gathered stories for her anthropological collection Mules and Men. Other footage appears to be Bartow where she documented a medical "root doctor" whom she also wrote about in Mules and Men. She side-tracked to Mobile Alabama, interviewing and filming Cudjo Lewis, the last living African to have made the Journey of the Middle Passage to America as a slave (on an illegal slave ship, as slave transport had been banned).  Unfortunately, the audio didn't survive, and neither did footage of "the Zulu Crew" from New Orleans, nor dancers on a beach (a list Mason created describing Zora's footage is in an archive at Howard University).  Because Zora's interest was black folk culture, she shot footage at baseball bleechers in Florida, most likely one used by the Negro Leagues, and yet she filmed the average folks in the stands but not the players.
This early footage documented precisely the culture and people Zora wrote about in her books and was an important asset for my film, Jump at the Sun.